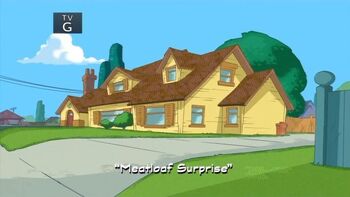 Mom joins Jamie Oliver as one of the judges for Danville's Meatloaf Festival Cook-off, as he stresses healthy eating and fresh ingredients. Meanwhile, Candace puts a bid on a prized souvenir resembling band members Nigel and Adrian from her favorite band, Tiny Cowboy, at the Rock and Roll Memorabilia Auction, but gets distracted when her brothers build a bounce house in their backyard. On the other side of town, Dr. Doofenshmirtz has plans to enter his family meatloaf recipe into the competition using "evil" as the special ingredient.
Read the full summary...
The Flynn-Fletcher house
Edit
Ad blocker interference detected!
Wikia is a free-to-use site that makes money from advertising. We have a modified experience for viewers using ad blockers

Wikia is not accessible if you've made further modifications. Remove the custom ad blocker rule(s) and the page will load as expected.