Season 2 (2003)
Edit
Season 2 also had a total of 16 episodes, and was broadcast in early 2003. It was the last series to be given a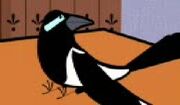 prime-time saturday slot.
Episode #
Title
Original air date
17
"Gadget Kid"
February 16, 2003
Mr. Bean meets and befriends a young, naughty and smart Japanese boy with the latest technological gadgets at a museum.
18
"The Visitor"
February 16, 2003
An old friend and former kindergarten classmate of Mr. Bean's named Harry ruins a visit when he eats all of his food.
19
"Royal Bean"
February 23, 2003
Mr. Bean saves the Queen's dog while trying to replace a mug, and is knighted and given a new one.
20
"Young Bean"
February 23, 2003
Mr. Bean begins to reminisce about his childhood adventures after hiding in the attic from Mrs. Wicket.
21
"Goldfish"
March 1, 2003
Mr. Bean tries training a goldfish in order to break a record.
22
Inventor"
March 1, 2003
When Mr. Bean receives a visit from a rich inventor, it inspires him to start inventing so he can impress Mrs. Wicket.
23
"Car Trouble"
March 8, 2003
When Mr. Bean's mini breaks down, he attempts to find other methods of transport to get to an important event by getting a hot air balloon.
24
"Restaurant"
March 8, 2003
Mr. Bean eats at a restaurant also being dined at by a group of irritating celebrities both then he gets another crush on one of the celebrities then he gets kissed.
25
"Hot Date"
March 15, 2003
Mr. Bean and Irma Gobb go out on a date wherein he forgets his wallet forcing her to pay for all
26
"Wanted"
March 15, 2003
A case of mistaken identity makes the authorities mistake Mr. Bean for an identical escaped prisoner, who finds being Mrs. Wicket to be a greater punishment.
27
"Big TV"
March 22, 2003
When Mr. Bean's old TV breaks, he tries to buy a new one.
28
"Keyboard Capers"
March 22, 2003
Mr. Bean buys a piano to learn how to play it. He is given a self playing keyboard by a piano teacher.
29
"Camping"
March 29, 2003
Mr. Bean goes camping in a caravan made out of Mrs. Wicket's storage.
30
"Chocks Away!"
March 29, 2003
Mr. Bean flies a remote control aeroplane to get revenge on an annoying overweight boy.
31
"Super Trolley"
April 5, 2003
When Mr. Bean gets a wonky shopping trolley at the local supermarket, he decides to build his own trolley.
32
"Magpie"
April 5, 2003
Mr. Bean is arrested when a selection of jewelery is stolen in the local area - however, it is soon discovered the culprit may not be a human.
Ad blocker interference detected!
Wikia is a free-to-use site that makes money from advertising. We have a modified experience for viewers using ad blockers

Wikia is not accessible if you've made further modifications. Remove the custom ad blocker rule(s) and the page will load as expected.